How to download Twitch videos, both VODs and clips included?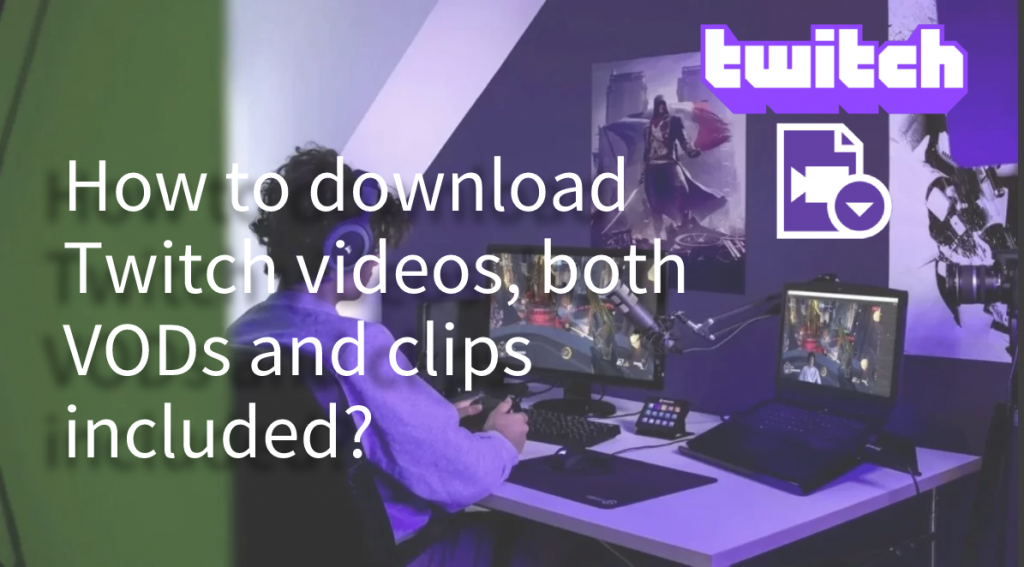 Watching people play video games is the ever-growing addiction of this decade. Twitch is the ultimate platform to watch people enjoy their achievements. If you are one of those people who know how to have a good time, you may want to download Twitch videos or clips from your favorite streamer directly into your PC or mobile device to avoid going online every time you need to check something.
As we proceed, we should get a perception more in-depth and see if it's allowed to download Twitch videos or clips from the platform's already existing integrated features, or if we should utilize a third-party app to enjoy our favorite gaming streams while staying offline to avoid using cellular data.
This guide will teach you how to download Twitch videos.
The Difference between Clips and VODs
Unlike YouTube, there are some pretty significant differences between a VOD and a clip. While full-length on-demand videos do exist, not all Twitch streams are saved automatically.
Streamers have to enable the ability for their streams to be archived; it's not automatically enabled by default. Once you or your favorite streamer has allowed the ability to save their streams to their channel, there are still limits on how that content is protected. While YouTube might hold onto the content for an infinite amount of time following a live stream or a video upload, Twitch puts some limits on how clips are saved to the website.
Once a user has enabled auto-archiving, their videos will appear saved on their page for 14-days for regular streamers. If you have Amazon Prime, you can upgrade to Twitch Prime to gain access to 60-day archives. Alternatively, if you've been addressed a Twitch Partner, your streams will also archive for sixty days.
Highlights, on the other hand, are different from videos. If a highlight is saved to your account, it lasts forever, as opposed to just for the 14 or 60 days on standard accounts.
What are the differences in the video types? Highlights are much longer than a clip, often taking up full videos at a time. Meanwhile, clips typically range from 30 to 60 seconds, the cap being 60 seconds, depending on how the content was edited. Highlights are made by the creator or specifically chosen editors, but clips can be made by anyone looking to save content to their page.
The clips that you create from other streamers' content save directly to your account inside your clips manager. This allows you to keep the content right to your page.
How to Download Twitch videos?
If you are looking for a decent Twitch Video Downloader to do the work for you, you are in luck. Twiclips is a free Twitch clip downloader that provides you with the easiest way to download Twitch videos and clips from Twitch. Here's the using to download Twitch videos.
Go to twitch.tv and search for the category or channel.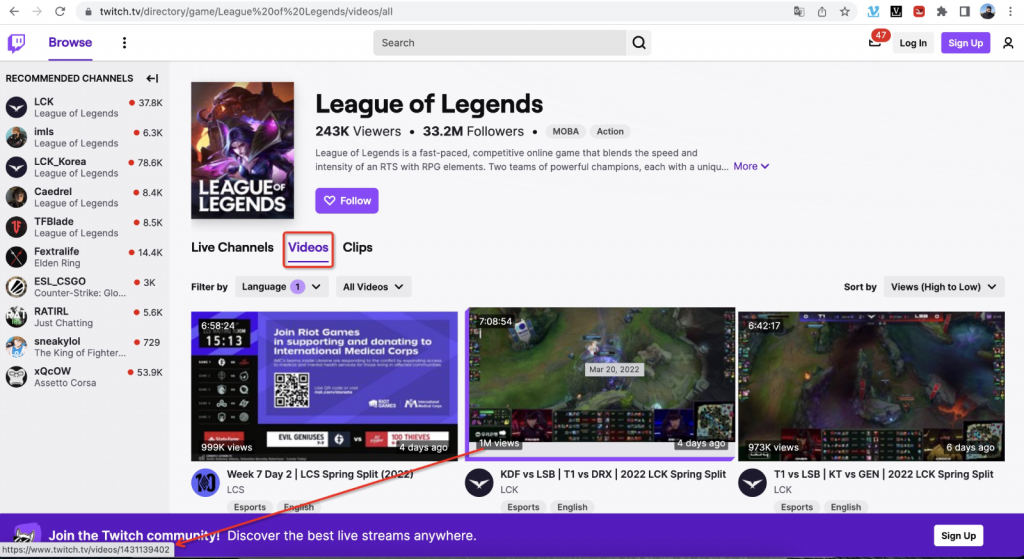 Now select the "Videos" tab and choose the video that you want to download on your PC. Copy the link of the video from the address bar to your clipboard.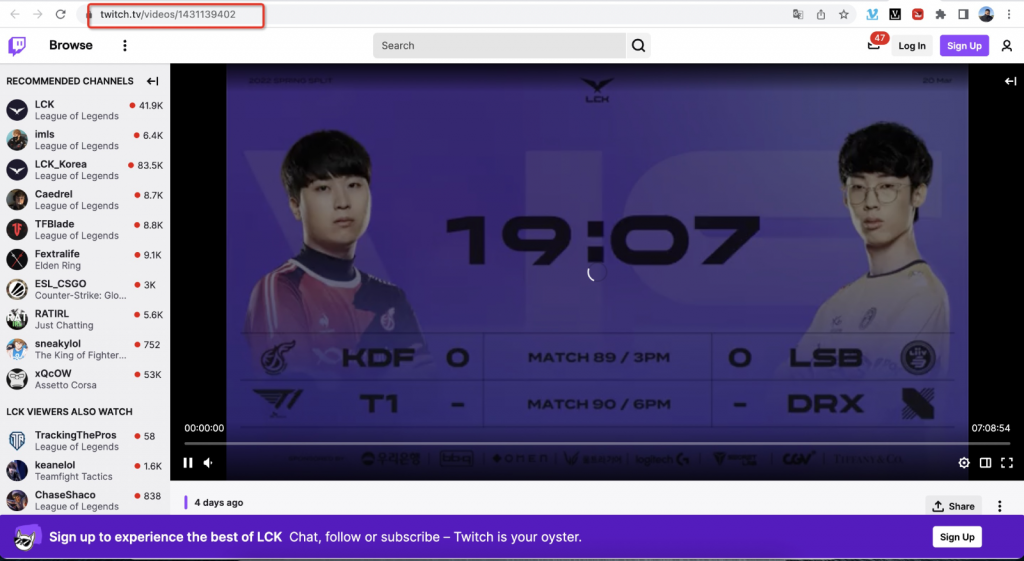 Now, go to twiclips.com and paste the copied video link in the search box, and click the download button.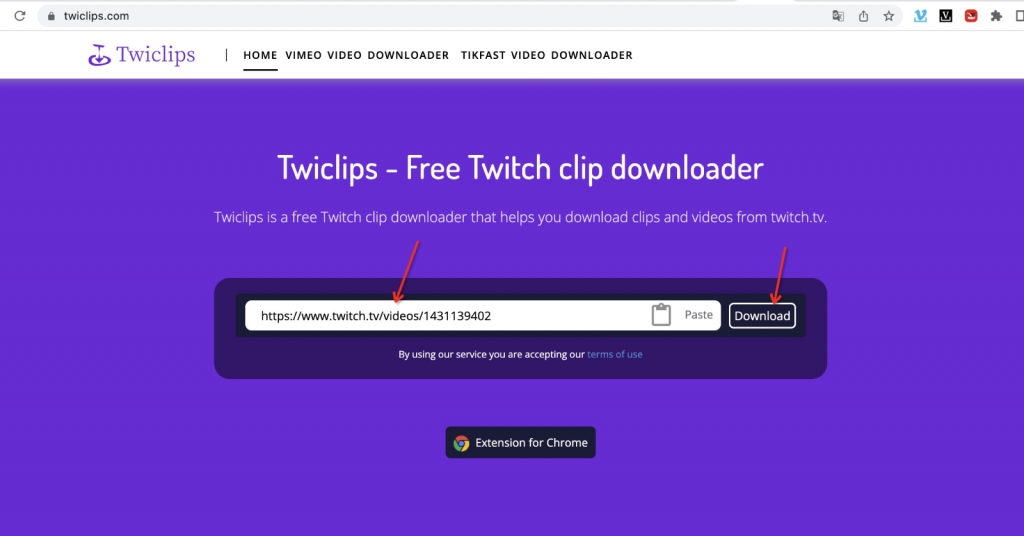 Next, you can select the clarity you want and the length of time you need, and press the download button.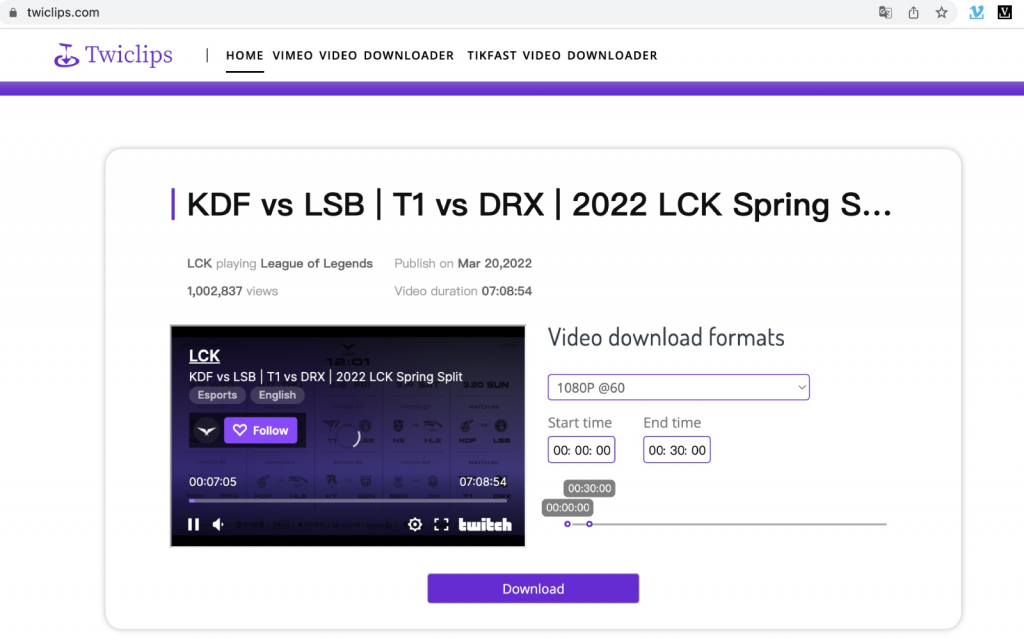 Wait for a while. When the progress bar reaches 100%, the video will be downloaded to your device.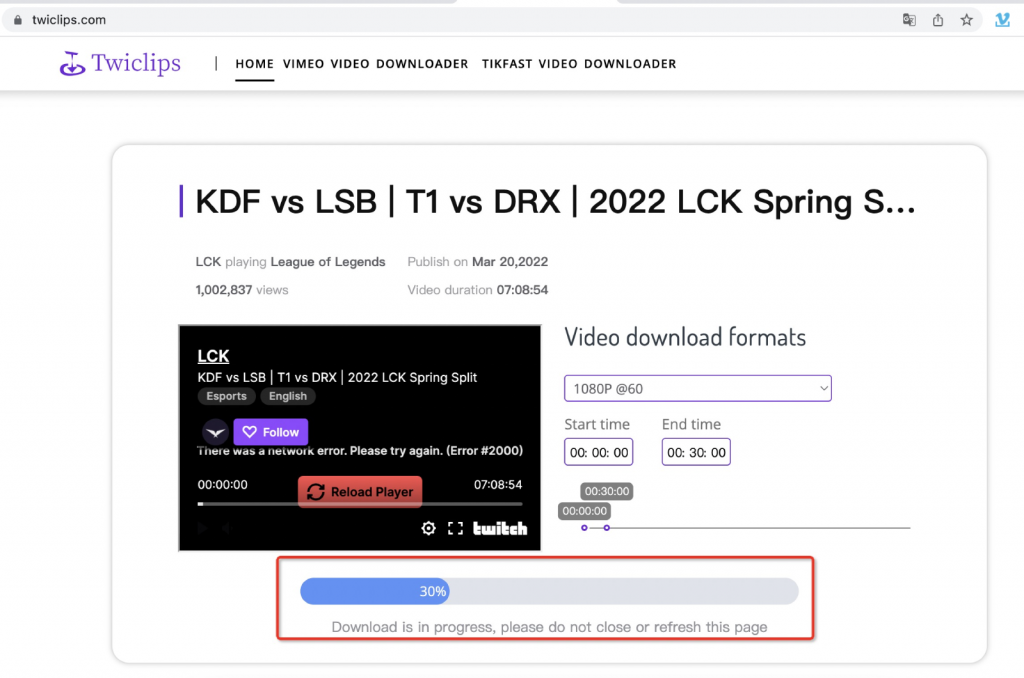 How to Download Twitch Clips
Twiclips can also download Twitch clips. Its operation steps are the same as downloading VOD.
Find your favorite channel in the same way, and then click the "Clips" tab.
Select the clip you want to download, and copy the link of the clip from the address bar to your clipboard.
Then go to twiclips website, paste the copied clip link in the search box and click the download button.
Choose a definition to download. The size of clip is very small, so you don't need to wait to download it.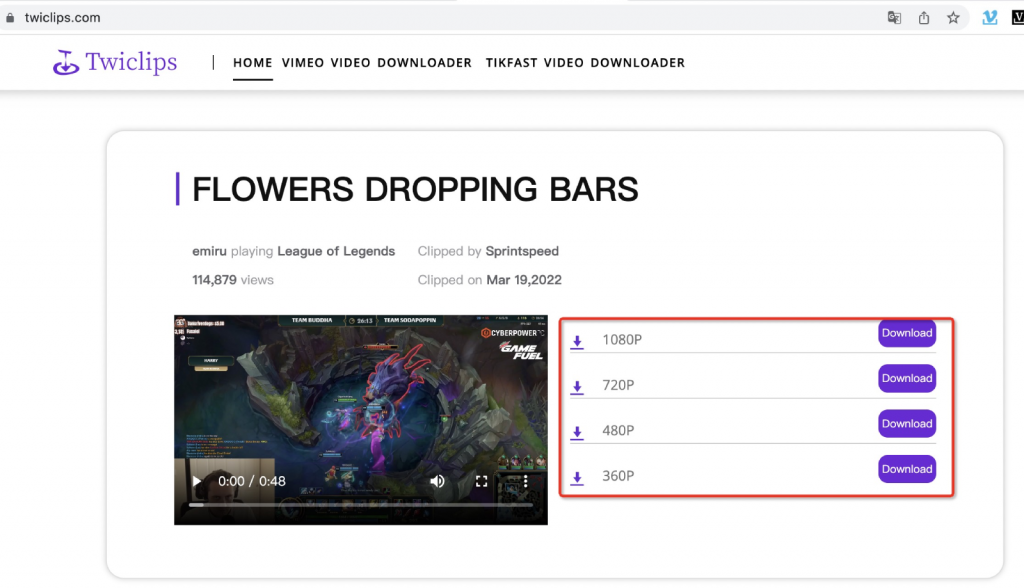 Download Twitch Clips by Twitch video downloader extension
In addition, Twiclips also provides a Twitch video downloader extension to help you download Twitch clips to your computer more easily.
Step 1: First, we need to go to the Google store to install the Twitch video downloader extension. Here is the link.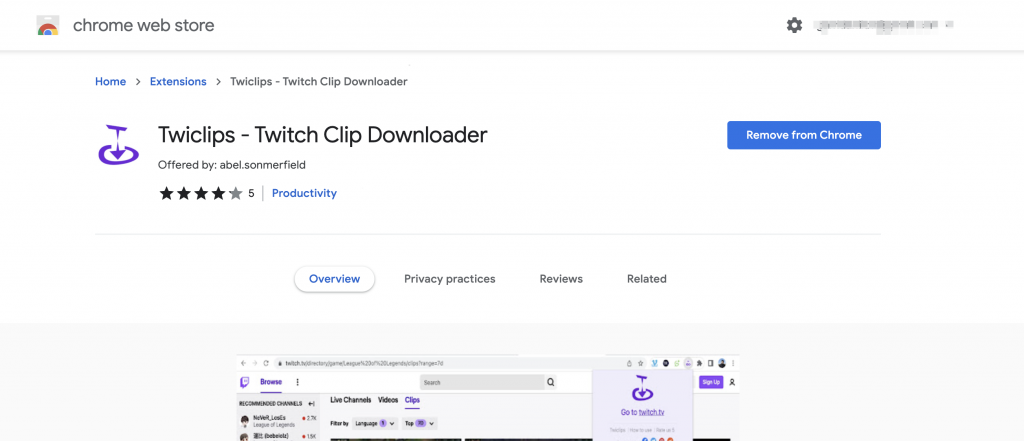 Step 2: After installing the extension, you just need to open the twitch website and find the clip list of your favorite channels. The plug-in will automatically insert the download button into each clip.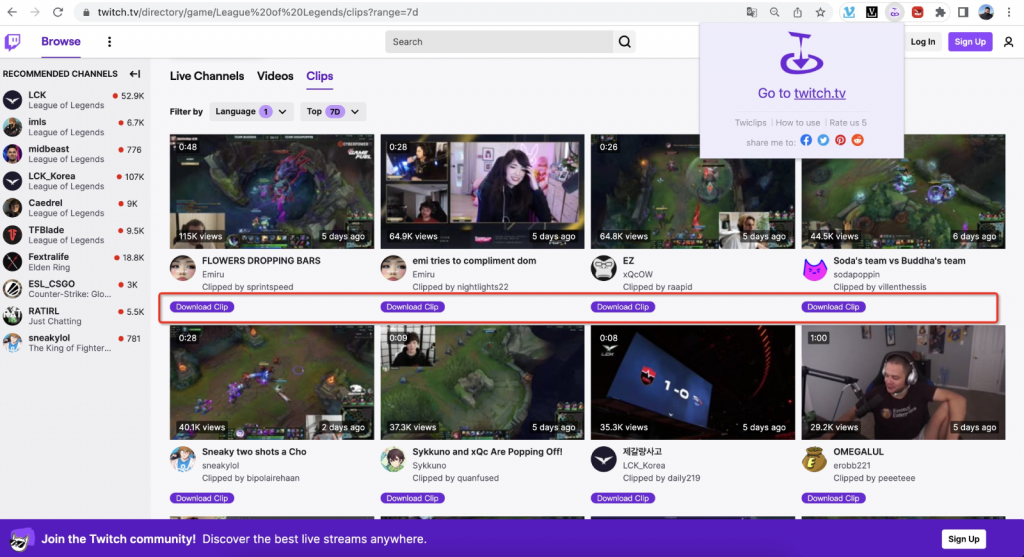 Step 3: Click the injection button and wait for a while. You will find that the clip has been downloaded to your device.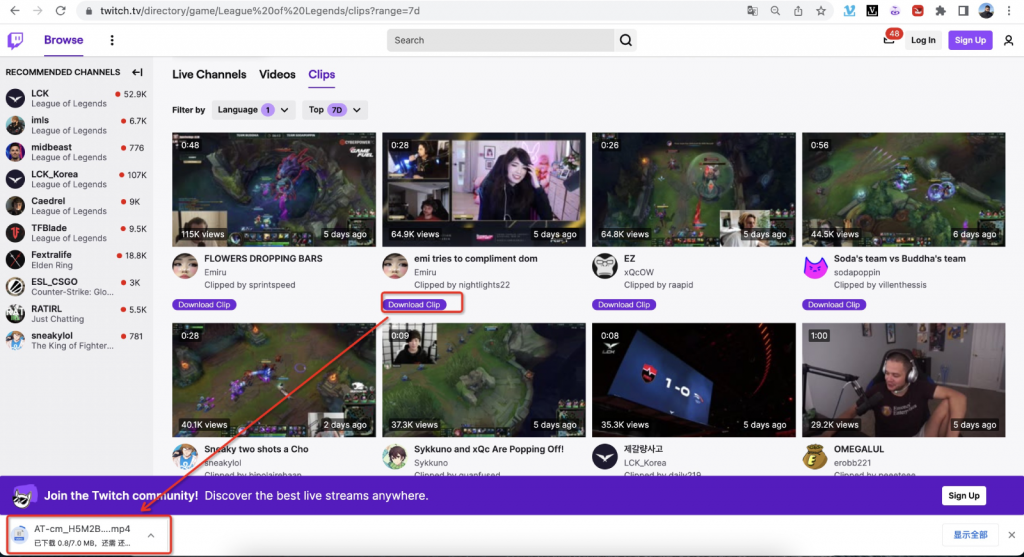 Is this Twitch video downloader extension convenient? Go and try it.
Conclusion
The largest live streaming platform on the Internet is an endless source of gaming videos that can help you master any game. You can find thousands of different games on Twitch, which makes it pretty easy to see different styles of play or different approaches to a game you're currently playing.
Download Twitch videos that is quite simple since you just have to use the twiclips. It is also a great way to constantly have access to your favorite gaming clips, even when you're offline.