8 Best Twitch Extensions to Optimize Your Watching Experience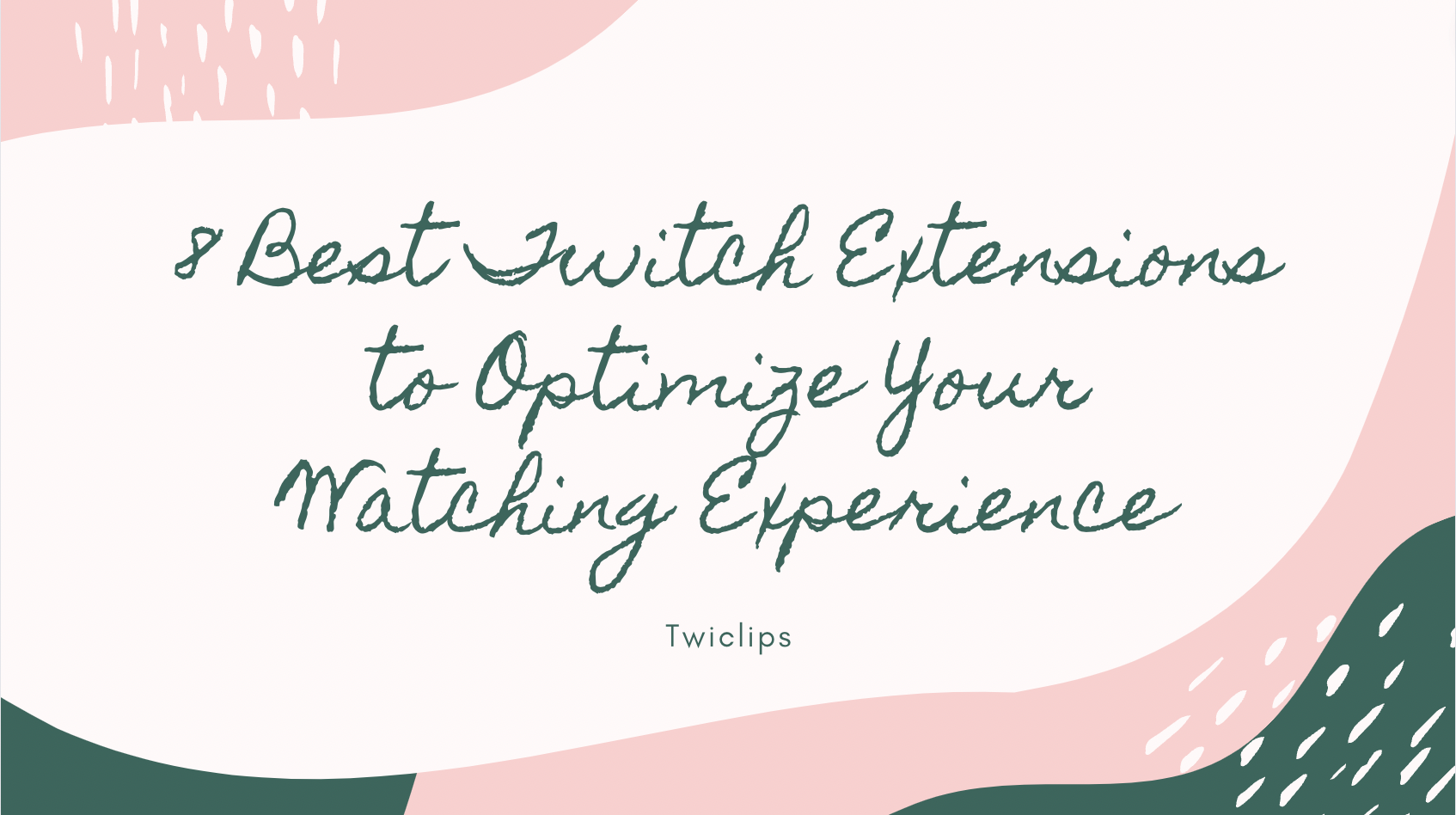 Are You A Twitch User?
If you're a Twitch user, you've probably encountered a lot of problems you'd like to solve. For example: "How do I turn off the pre-video ads?" "I really want someone to help me get all the points and Drops." "Do you think I can download this clip?"… Many questions stem from prolonged viewing Twitch live streaming and video, if you have the same problem, or want to have a more comfortable viewing experience, keep reading this article, I guarantee you will get a lot of useful Twitch tools.
Why Should You Use Twitch Extensions?
The Twitch extension can help you block the ads you want to block and watch all Twitch streams and videos more seamlessly;
It can help you automatically get Drops and Points that drop at any time;
Have Twitch clips or VODS that you want to keep on your device? It will download them for you;
Make your Twitch experience more fun;
Don't like certain channels? Just block them!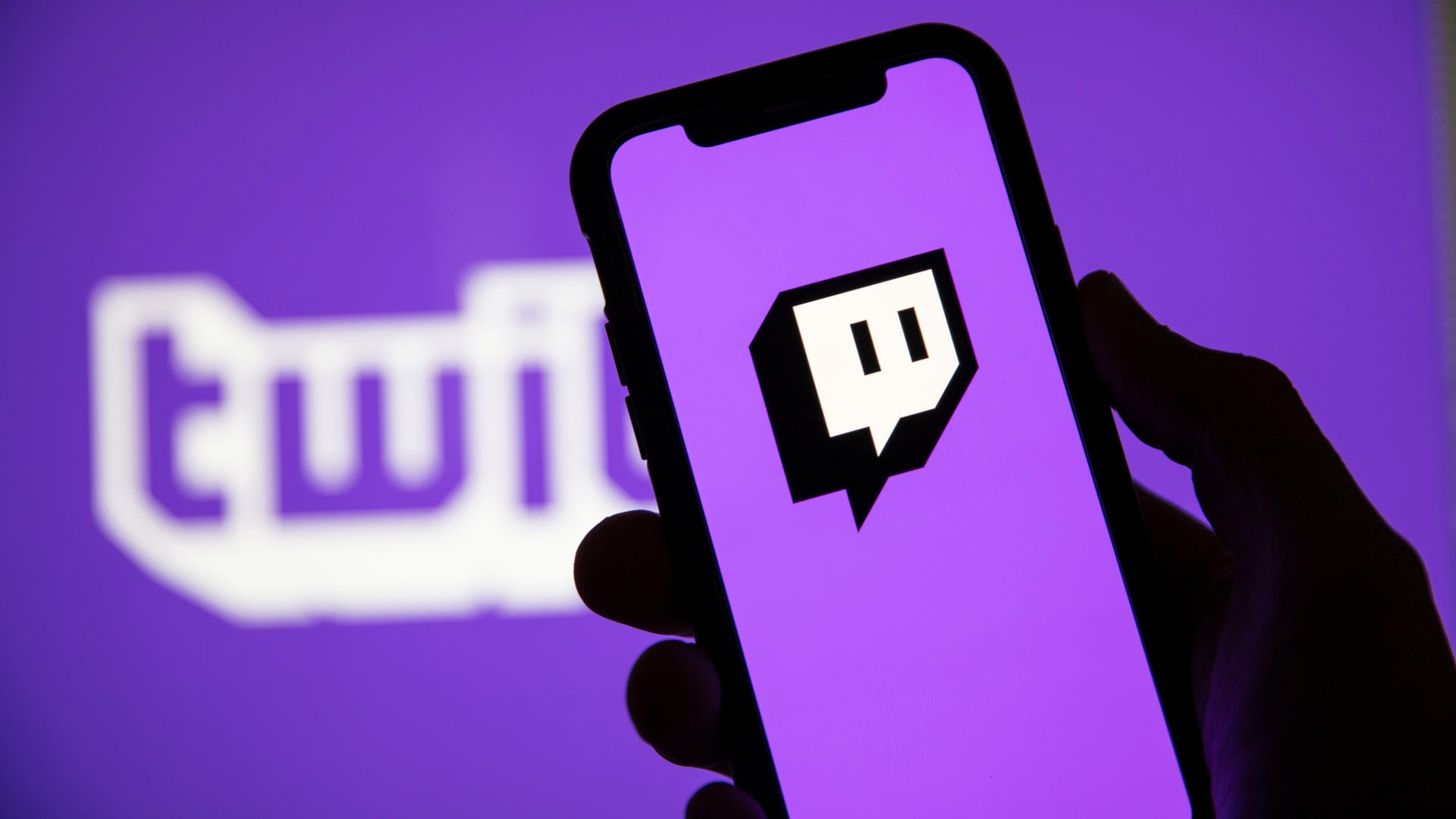 Here's A List of The 8 Best Twitch Extensions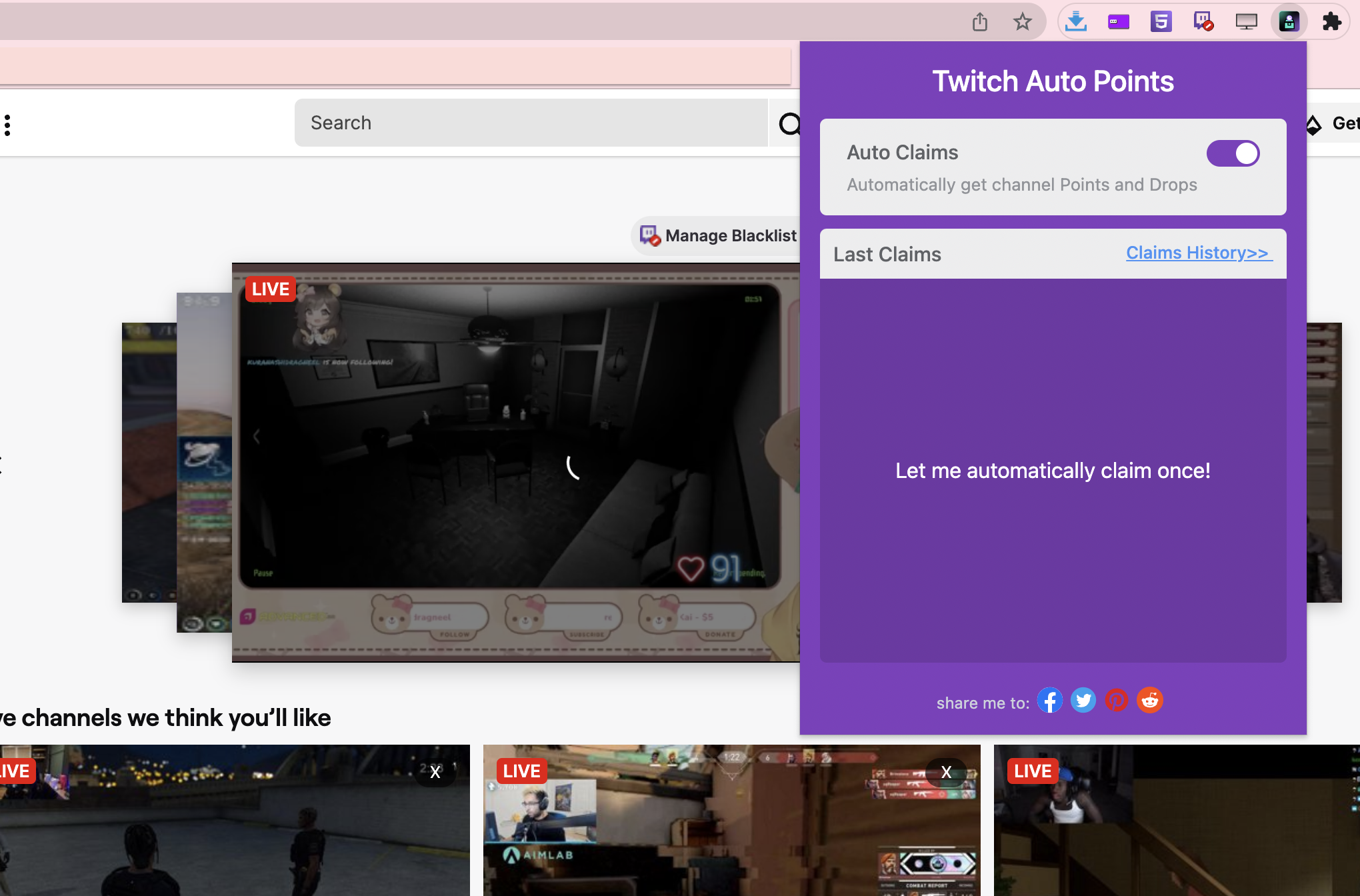 Twitch Channel Points Auto Claimer is able to automatically earn points and Drops in Twitch channels. It focuses on improving your experience on twitch.tv. Twitch channel points claim and auto claim Twitch Drops are the key function for the extension.
What is Twitch Channel Points?

This is an interesting service launched by Twitch that allows streamers to provide their loyal viewers, or subscribers, with unique points in the channel, making them more engaged and fulfilling, and it is a great way for streamers to interact with their audience. one of the ways. The anchor can attract other unsubscribed viewers to subscribe to their channel by issuing points, and viewers can continue to earn points by continuing to watch the Twitch anchor's channel.
Due to Twitch's settings, viewers will be issued additional reward points for every 15 minutes of viewing, which requires viewers to click to acquire, and restart the next 15-minute timer after clicking to redeem. Many users will miss a lot of points because they forget to manually acquire them.
What is Twitch Drops?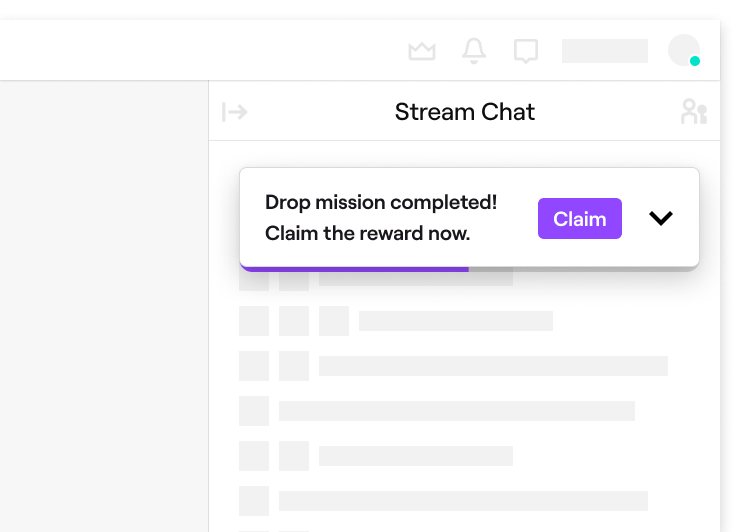 Twitch Drops are specific in-game loot that exist on different channels and require viewers to be on Twitch. Drop activities are generally initiated and formulated by game developers. When the game or the anchor of the game reaches a certain milestone, the Drop task will be activated. When the streamer or viewer achieves the mission goal, the viewer needs to manually obtain the game loot, and the activation of the game loot requires the viewer to associate the Twitch account with the game account.
Viewers can filter and activate the live channel of Treasures through tags, and can also enter the Treasures page through the user menu to view the ongoing Treasures game activities.
How do I automatically earn points and Drops with the Twitch Channel Points Auto Claimer?
Install Twitch Channel Points Auto Claimer -Twiclips
Go to an active Twitch channel, and make sure the function switch of the extension is turned on.
Watch the stream as normal, or keep the stream playing. Twitch Channel Points Auto Claimer will automatically claim channel points or drops when the conditions are met.
Twiclips - Twitch Clips and VODs Downloader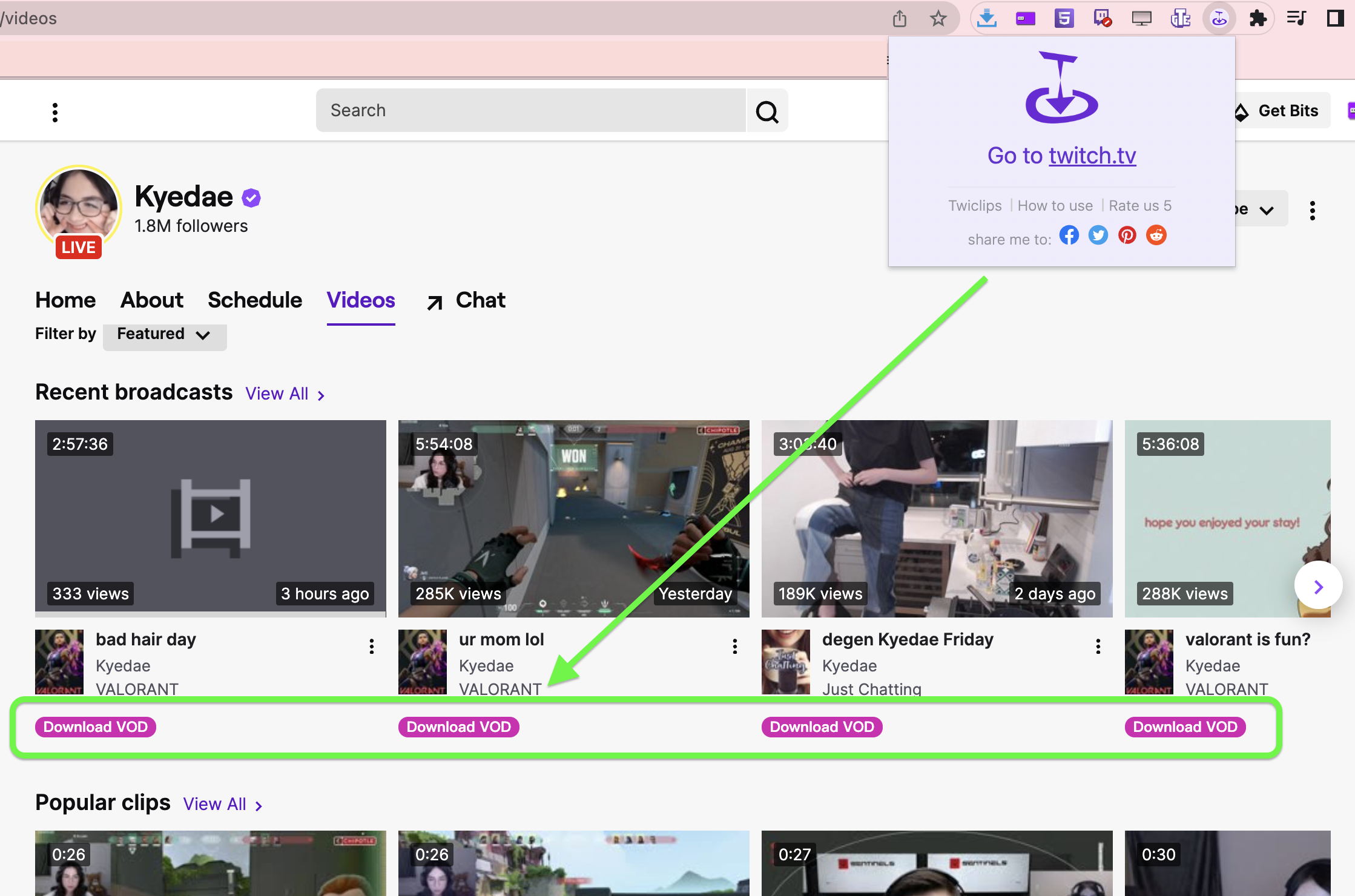 On Twitch, there are not only live videos, but also many highlights left by live broadcasts and all recorded broadcasts, which allows users who missed the live broadcast to have the opportunity to watch many wonderful videos. Twitch's recordings are divided into two types, one is editing, the length of the film is within 30 seconds; the other is VODs, which is generally a few hours long.
To download them, you can use Twclips, a Twitch video downloader. As you can see, when we started enabling it on Twitch, it started working, just click the download button below each video to get HD videos.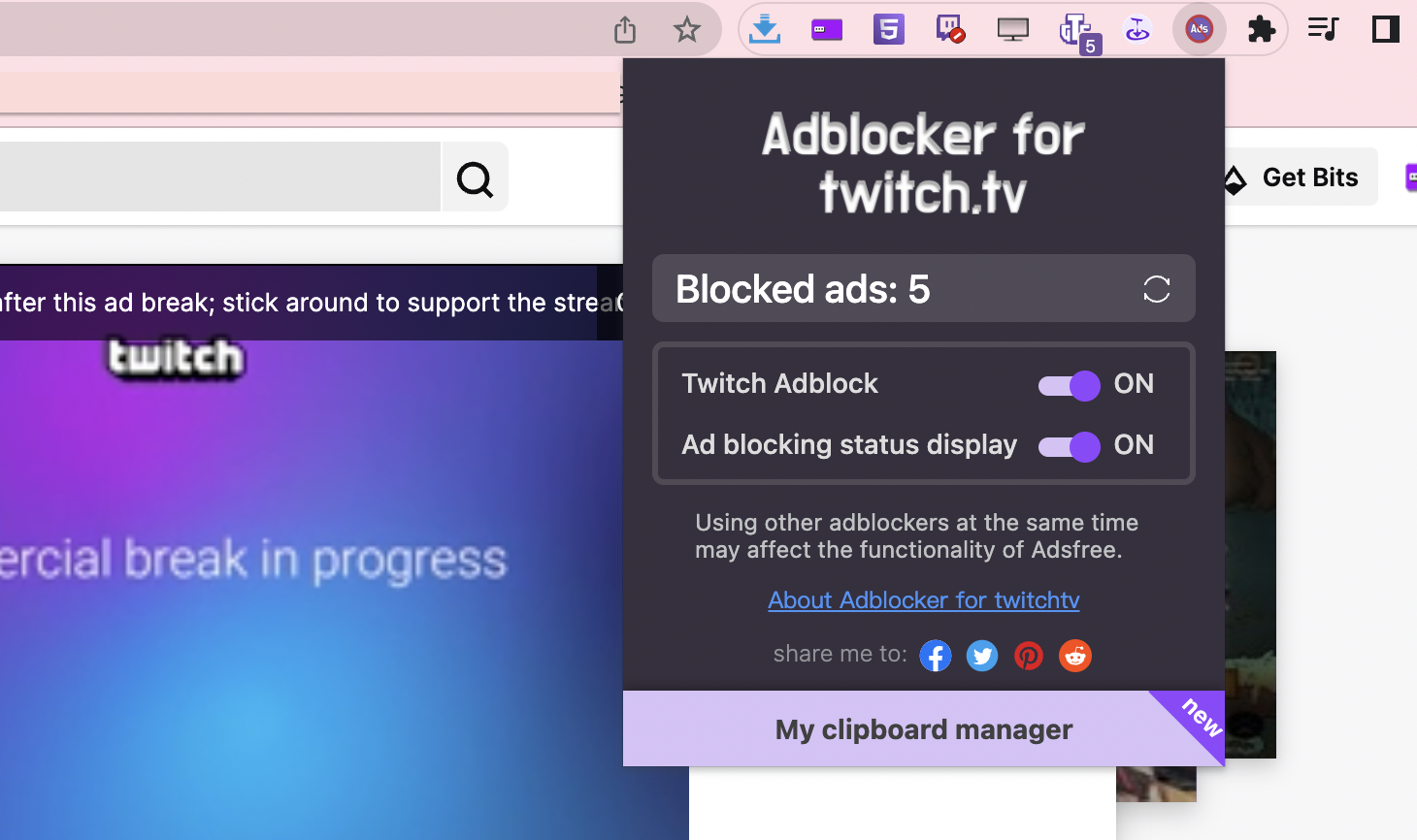 Twitch is a well-known streaming platform, and its main source of revenue is advertising and subscriptions. The most common Twitch ads are those that are inserted during a livestream or video, and users have to watch the entire ad before continuing to watch the video.
Twitch offers users the opportunity to waive ads by subscribing to Twitch Turbo, which charges $8.99 per month. Of course, many users are tired of ads and don't want to pay for it, and the best solution at this time is to use a browser-extended version of an ad blocker.
Adblocker for Twitch™ blocks all ads from live broadcasts and inside videos and records them. You can see on the dashboard how many ads you block while watching Twitch, because when you turn it on, you forget the ads are there.
Alternate Player for Twitch.tv - A Better Player Than Twitch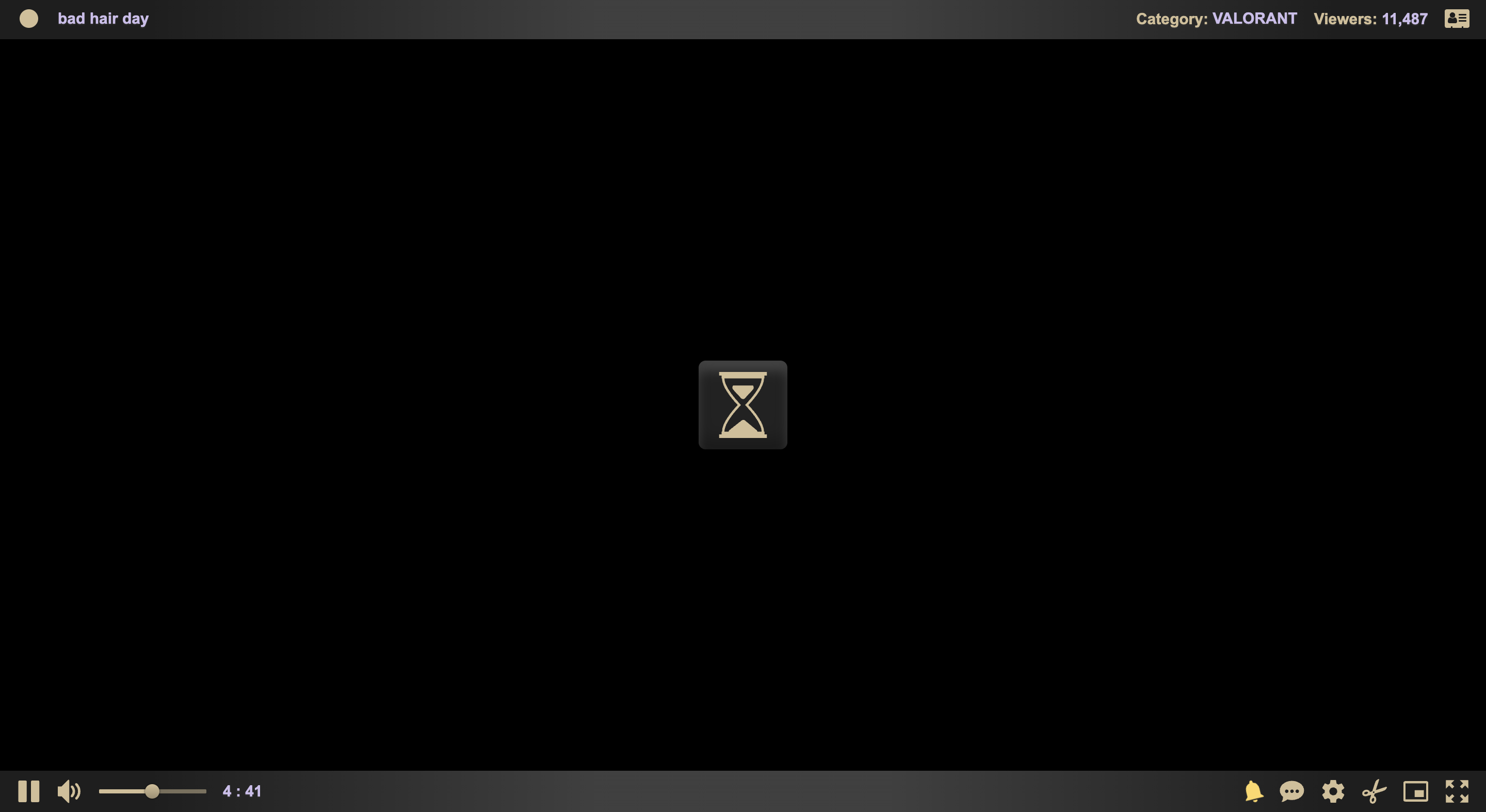 Alternate Player for Twitch.tv allows users to personalize their Twitch viewing environment, such as audio-only mode, setting background colors, disabling chat, automatically opening chests with bonus points, and more. Other than that, the biggest advantage of this extension is that it runs more smoothly than the Twitch player and has less memory.
Global Twitch Emotes - Replaces All Twitch.tv Emote Phrases with Their ActualEmoticons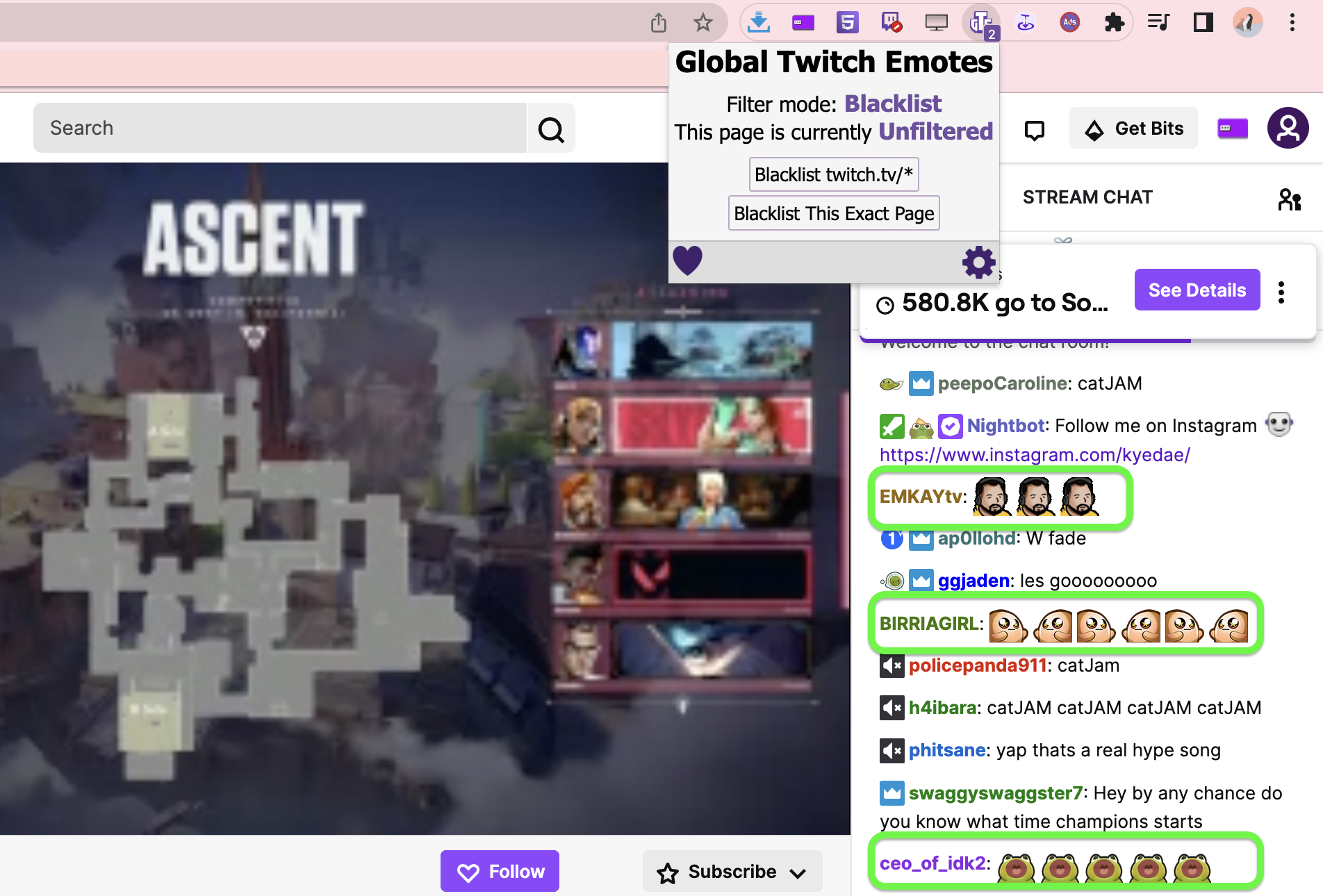 Global Twitch Emotes is an interesting extension that replaces all Twitch.tv emote phrases with their actual emoticons.
Global Twitch Emotes is a simple extension that scans the webpages you visit and finds and replaces all Twitch.tv emote phrases with their appropriate icons. It supports Kappa, global, subscriber, BetterTTV, and now FrankerFaceZ emotes everywhere.
The extension comes with several features including:
BetterTTV Global and Channel Emotes Franker
FaceZ Global and Channel Emotes
7TV Global and Channel Emotes
Custom Emote support (add your own emotes!)
Emote Filtering (turn off/on certain unwanted emotes and/or channels)
URL Filtering (prevent GTE from twitch-ifying certain websites)
Support for Twitch.tv Smilies (Robot, Turbo, and Monkey faces)
Twitch Previews - Live Previews When Hovering Over Streams on Twitch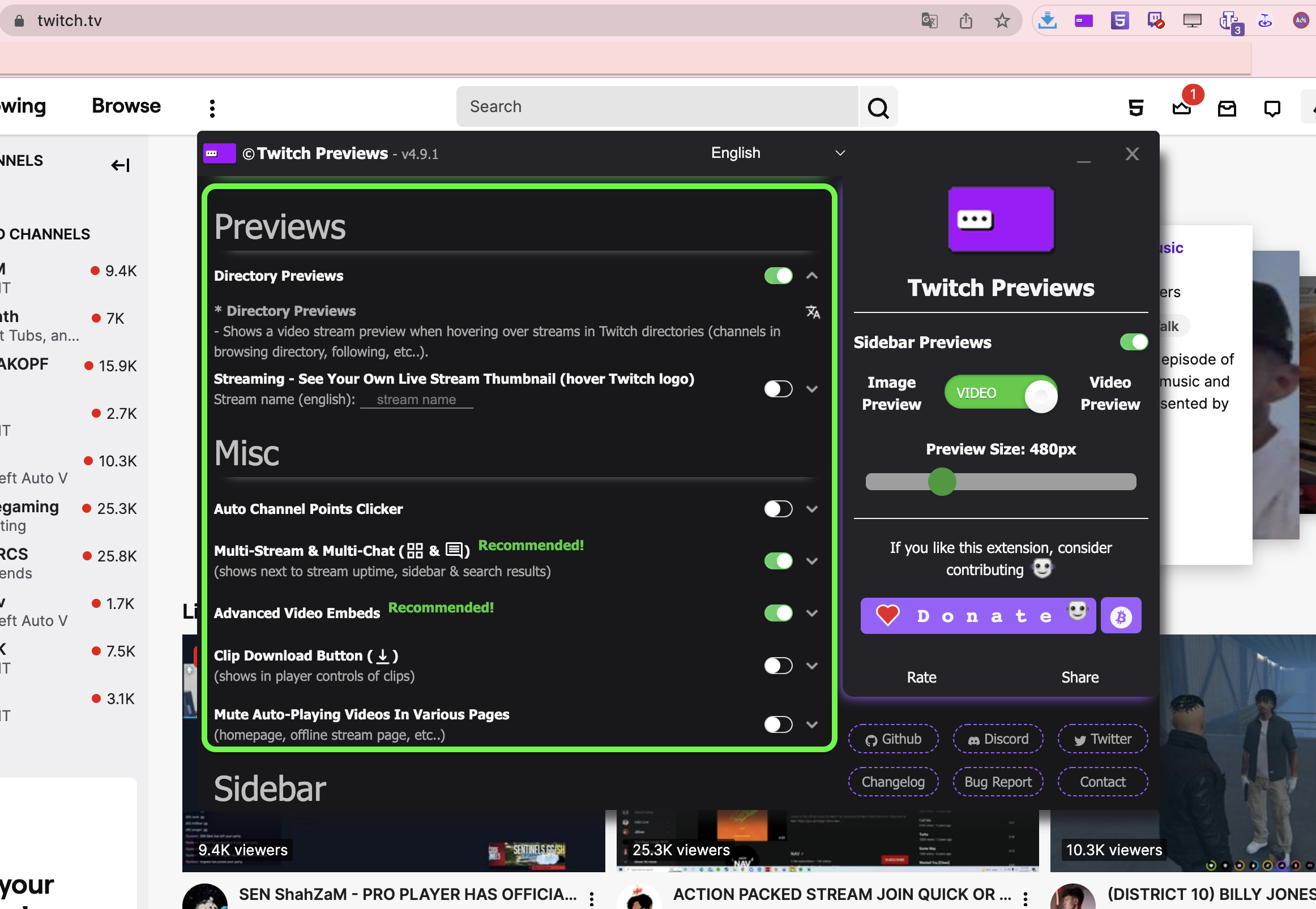 Twitch Previews creates a live video or image preview when hovering over a stream on the sidebar (followed channels list on the side) and in the directories (channels in browsing directory, following, etc..).
Twitch Previews is also a comprehensive Twitch tool. It can not only preview the live broadcast on the Twitch homepage or the theme homepage, but also have many other functions, such as:
Preview resize & volume control.
Transparent / Dynamic Chat Overlay.
Full Screen With Chat Mode.
Auto Channel Points Clicker.
Clip Downloader.
Sidebar Favorite Channels List.
Sidebar YouTube Channels List.
……
Unwanted Twitch - Blocks All Your Unwanted Twitch Channels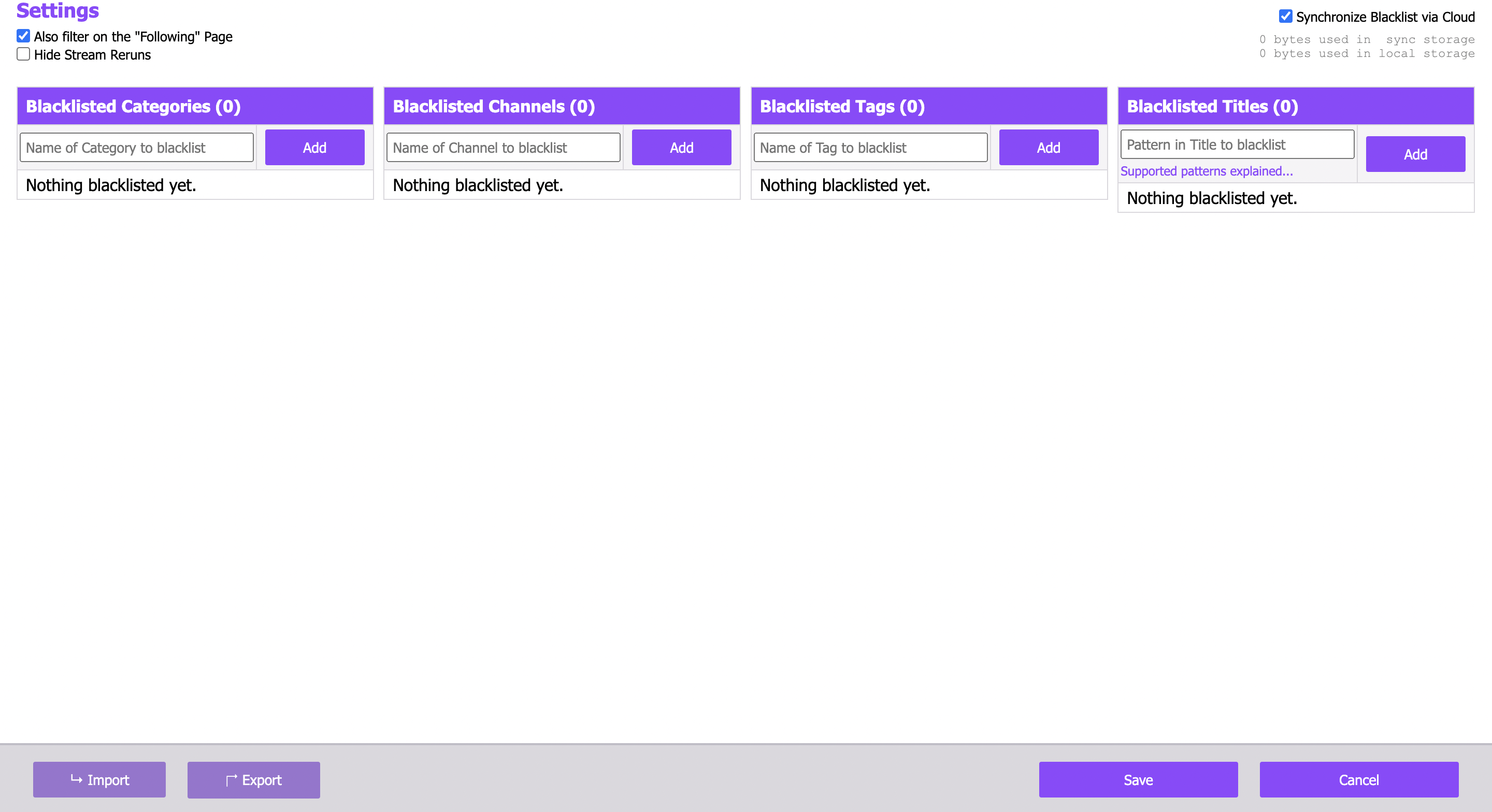 Unwanted Twitch lets users blacklist streamers they hate so they won't be seen on Twitch.
It supports hiding unwanted categories/games, channels/streams, tags, stream replays, etc. It also hides streams based on title, disables filtering on the "Follow" page (in settings), toggles the visibility of the "X" button, uses Import/export (in settings) shared blacklists, blacklists are automatically synced between devices (in settings, can be disabled), one-click toggle to disable/enable extensions (click on the extension icon to access) - Compatible with BetterTTV (BTTV) and FrankerFaceZ (FFZ), which also supports Twitch's dark mode.
Anu Twitch Chat Overlay - Twitch Chat Tool without Exiting Full Screen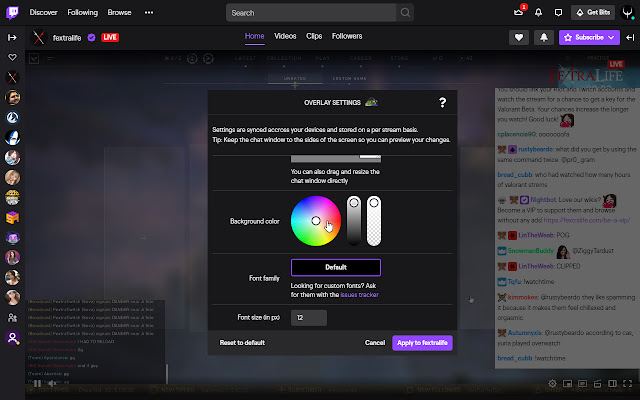 Anu Twitch Chat Overlay allows users to display Twitch chat on top of the streamer. Read chats, send messages, claim points and more without leaving full screen mode…
Customize position, font, background on a per stream basis and sync and store your preferences across your devices. Twitch dark and light themes supported by default.
Conclusion
Twitch is a very interesting platform that allows streamers to showcase their talents and allow users who like them to interact with them… If you have the above 8 expansions, you can add more fun and convenience to watching, come and try it!